Directors
A number of local people have contributed to the development of Carmarthen Bay Ferries CIC. The current directors are Kenton Morgan (Chair), Celia Strange, Andrew Kirkpatrick, Charles Etty-Leal and Sean Hogan. Carmarthen Bay Ferries is  always looking to expand the number of directors. We welcomes applications from people with an interest in sustaining this ancient ferry service and providing boat access to the beautiful Tywi Estuary and Carmarthen Bay, Carmarthenshire, foremost coastal attraction.
Current Directors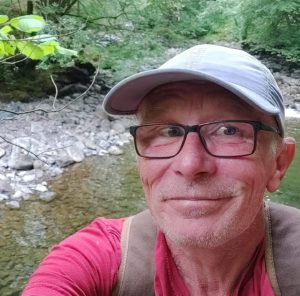 Andrew Kirkpatrick
Andrew joined as a director in 2020, having first become involved in the volunteer group, The Friends of Glansteffan during pandemic lockdowns. Andrew was born and raised in South Wales and moved to the Carmarthen area in 2018, having lived for several years in South America.  He has experience in Financial Services, IT, education and third sector projects.  When he's not working, Andrew likes to spend time with his bonkers cat Jasper, (maybe he will become the ferry's cat), be amongst trees, mountains or anywhere with large expanses of water, cycling, walking (anywhere but a shopping mall) and listening to Radio 4. He is a member of Towy Boat Club and hopes to own his own vessel in the future.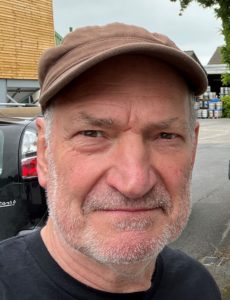 Kenton Morgan
A native of Ferryside, Kenton is one of the founding directors of the company. In 2017, he and Les Jones (dec.) were largely responsible for writing the successful grant proposal which resulted in the Coastal Communities Fund awarding Carmarthen Bay Ferries £300,000 to reinstate the ferry.  Kenton began sailing on the Tywi estuary at the age of 7 as a junior member of the Ferryside Sailing Club. He is often aboard Glansteffan giving a personal version the history and ecology of the estuary. He edited Two Sides of the Tide, transcripts of 19th and early twentieth century newspaper reports about the ferry. He is still passionate about sailing and has recently become a commercially certified skipper.
Celia Strange (Bio in preparation)
Charles Etty-Leal (Bio in preparation)
Sean Hogan (Bio in preparation)
Previous Directors
Rob Bamforth 2017-2020
Gerald Howells 2017
Dr David Hunter 2017-2019
Les Jones 2017-2021
Chris Jones 2017-2020
Mark Kessell 2017
Martin Smith 2018-21
Zoe Woodruff 2018-2020