A unique opportunity to travel up the River Towy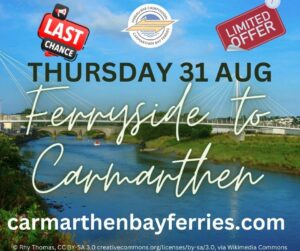 Join as we travel upstream from Ferryside (departing 17:30, 31Agusut 2023) to Carmarthen Quay along the beautiful River Towy.  The Towy is the longest river to flow entirely within Wales from its source in the Cambrian mountains, it runs 75miles (120km) before reaching the sea.
Spaces are limited and the trip is one-way only, (train from Carmarthen to Ferryside due at 18:50 to allow for your easy return*).
* (train price not included)
Did you know?
In 1546, King Henry VIII granted the Town Mayor of Carmarthen the title of Admiral of the Port by way of a Royal Charter, from Carmarthen Bridge down to the bar at the mouth of the estuary.
Long before the railway arrived in Carmarthen, the River Towy was an important route from the town out to the Bristol Channel and Carmarthen was a very busy port where cargo ships would moor at the quay to load or unload their cargo.
During this time, the Mayor would be responsible for travelling down the river and inspecting the bar on Admiral's Court day, they would hold a Court of Admiralty in order to establish how navigable the river is.
This tradition still continues annually to this day and is supported by River Towy Yacht Club (RTYC) based in Ferryside, on behalf of RTYC we are thrilled to be transporting the Mayor to inspect the bar for the second year in a row.