Glansteffan, The Boat
The name Glansteffan was the result of a collaboration between the Carmarthenshire primary school children of Llansteffan and Ferryside.
Commissioned in 2018, the boat is the result of an international collaboration between a Dutch designer, a Welsh boatbuilder (Robust Boats of St David's) and the New Zealand patented Sealegs® Amphibious Enablement System' which allows it to drive out of the water onto land.
On the water, it is driven by twin 115 horse-power Yamaha outboard engines - state of the art ultra-low emission four-stroke engines. Combined with the boat's planing hull, which help it skim over the water rather than ploughing through it, the engines can power her to a top speed of 30 knots. Two engines are needed for safety and the power is needed because of the rapid tidal flow in the estuary. At the time of building there were no electric alternatives with sufficient power.
On land, the boat is driven by the Sealegs® system.  This comprises three deployable wheels, rather like an aircraft undercarriage.  All three wheels are fitted with hydraulic motors and the front wheel is steerable.
The boat is very well equipped, with a compass, depth gauge, and a fully-featured GPS chart plotter and VHF Marine Radio.  Safety is enhanced by an AIS (Automatic Identification System) transceiver, and a PA system which can be used for running commentaries and announcements. Other safety equipment includes a life-raft, lifejackets for all passengers and two lifebuoys.
The boat seats 10 passengers, and up to 5 bikes. Weather protection is provided by a well-designed canvas canopy, fitted with large sight panels.  The canopy sides can be rolled up in good weather.
Learn more about Carmarthen Bay Ferries and Glansteffan with this video from "Cruising the Cut" Vlogger, David Johns.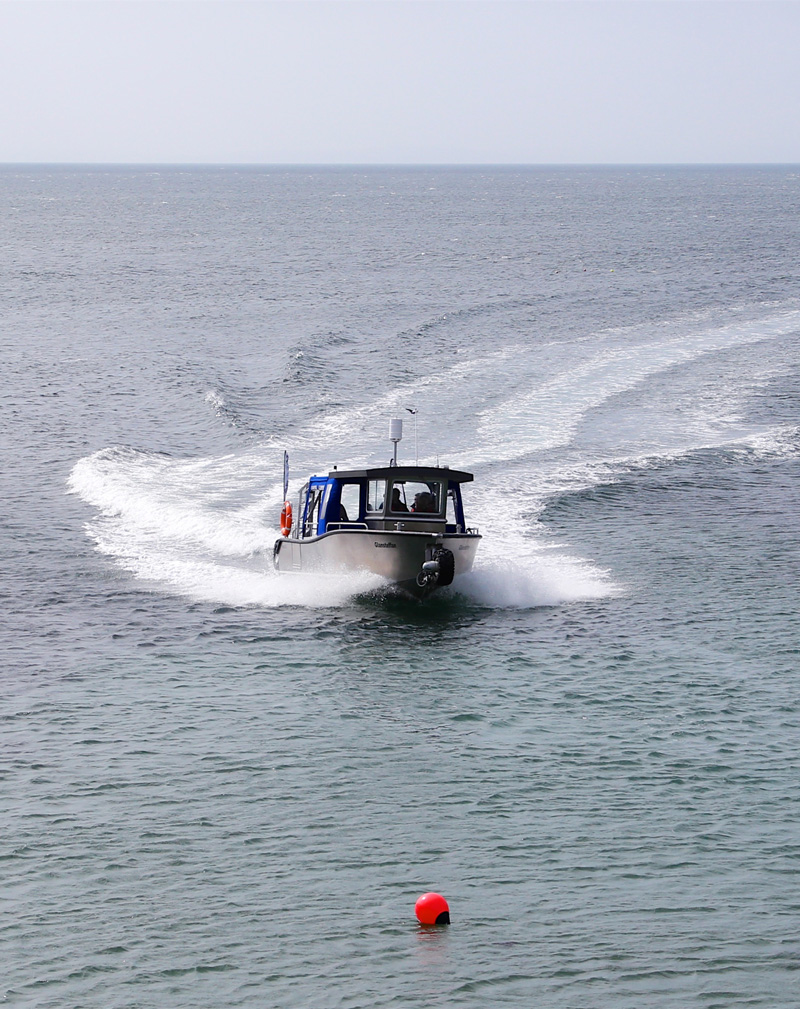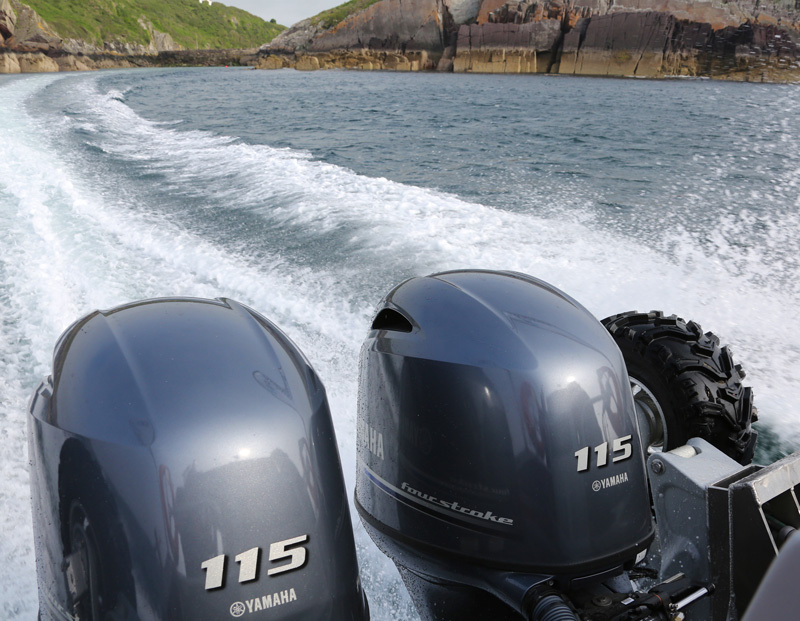 Statistics
| | |
| --- | --- |
| Hull length | 8m |
| Hull beam | 3m |
| Draft | 0.5m |
| Length inc outboards and wheels | 9m |
| Weight (without passengers) | 2540kg |
| Max loaded weight | 3500kg |
| Max speed on land | 8kph |
| Max gradient on land | 1 in 5 |
| Max speed on water | 30 knots |
| Cruising speed on water | 15 to 20 knots |
| Range on water | 100 nm |
| Capacity | 2 crew 10 passengers |
| Bikes/wheelchairs | 5 bikes or 2 wheelchairs |